Nugs of cannabis flower dipped in extracts and rolled in kief. Moon rocks are typically high in THC, averaging more than 50%, and valued foremost for their potency. Moon rocks are also frequently referred to as "cannabis caviar," although this title is technically reserved for nugs dipped in extracts, without the added layer of kief.
"You should take it slow if you're trying moon rocks for the first time."
"Don't use a grinder on your moon rocks or you'll lose a lot of kief."
What are moon rocks?
Moon rocks are aptly named products in today's cannabis marketplace, as their name is an accurate representation of their effects. Thanks to their signature combination of flower, extracts, and kief for a final dusting of THC-laden trichomes, moon rocks tend to give users to a decidedly "lunar" experience. 
Moon rocks are often called "cannabis caviar." The two terms, though frequently interchangeable, did originally designate two distinct products. "Cannabis caviar" may refer to moon rocks, or it may just refer to nugs covered in cannabis oil. In other words, cannabis caviar must be covered in kief to be considered moon rocks. So if you're looking to buy moon rocks at a dispensary and you hear your budtender talking about "caviar," it's always best to double-check and make sure you're getting kief-covered moon rocks.
Though moon rocks are a relatively new cannabis product, a wealth of variations are already out in the market. Canna-brands continue to engineer their own variations of the moon rocks concept with myriad combinations of cultivars and concentrates.
Origin of moon rocks
Moon rocks materialized out of the longstanding, intimate relationship between cannabis culture and hip-hop — or, to be more precise, out of a mixtape project between former Death Row Records executive vice president-turned-marijuana mogul Kurupt (Ricardo E. Brown) and music artist Dr. Zodiak (Daniel Laughlin).
Kurupt and Dr. Zodiak met in 2013, and quickly went from collaborating on a mixtape to launching the first line of branded marijuana moon rocks. Since the advent of Kurupt and Dr. Zodiak's Moonrocks, other brands and dispensaries have breached the stratosphere and launched their own lunar concoctions.
Just how potent are moon rocks?
You might expect moon rock weed to hold a large percentage of marijuana's most desirable compound, THC. You'd be right. Most moon rocks contain more than 50% THC. Due to its high potency, you probably won't want to offer a bowl of moon rock weed to a first-time smoker.
How much can I expect to pay for moon rocks?
As you may have guessed, moon rocks are usually a little higher priced per gram or per eighth, or 3.5 grams, than your normal top-tier flower. A gram of moon rock weed averages between $25 and $35, and an eighth averages between $90 and $100.
Caviar vs moon rocks
The terms caviar and moon rocks are sometimes used interchangeably. However, one technical difference exists between the two. Moon rocks are always a cannabis flower that's been soaked in concentrate and then coated in kief, while caviar may or may not include the kief. Essentially, all moon rocks could also be considered caviar, but caviar without kief is not considered a proper moon rock.
How to smoke moon rocks
Smoking moon rocks isn't necessarily complicated, but it does require some extra care and attention to detail. Here are some key dos and don'ts to keep in mind when smoking moon rock weed.
Dos:
Use scissors to break them up in small pieces.
Use glass — lightly pack a bowl of moon rocks into a pipe or a water piece to ensure you lose as little kief as possible.
Use hemp wick to light your moon rocks. The consistency and dense layering of moon rocks makes it necessary to hold a flame to your bowl for longer than you would with dry flower. Using hemp wick will save you from potentially tasting all of that butane from a lighter.
Don'ts:
Don't try to roll it up into a moon rock joint or a moon rock blunt. Moon rocks are simply too sticky to be rollable. 
Don't throw moon rocks in your grinder. It will completely gunk up your grinder and likely remove most of the moon rock's kief coating.
Don't pack a bowl of moon rock weed too tightly. You'll waste more kief and the bowl will be very difficult to light.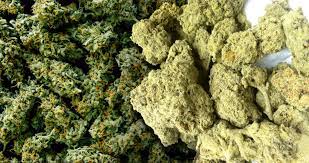 How to make moon rocks at home
Should you decide to try your hand at making moon rocks at home, you'll need the following items:
A nug of flower
Extract
Kief, either store-bought or from your grinder
Tongs or tweezers to separate sticky ingredients
A liquid dropper (optional)
Once you have all the necessary tools and ingredients, follow this Step-by-Step Guide to Making Homemade Moon Rocks:
1. Take the flower and apply your extract to the whole nug.
You may be able to roll your buds over the cannabis oil depending on the consistency. Some extracts may require that you apply heat to achieve a more liquid consistency that will better adhere to your flower.
If your extract is liquid enough, you may be able to use a dropper to help place it on your nug.
2. Add two to three more layers of extracts.
Let each layer permeate through the nug before each application.
Some users inject warm oil into the center of the buds.
This step isn't exactly a necessity, but moon rocks are usually coated with more than one layer of concentrate.
3. Roll the extract-covered flower in your kief. Use tweezers if necessary.
The kief should stick to the oil-covered nug easily.
4. Take your kief- and concentrate-covered nug and set it aside to dry in a cool place, away from direct light or sunlight.
5. Enjoy your homemade moon rocks!