With more than 1,000 strains of cannabis having been bred during the past several decades, it is critical that patients are aware of the different types of efficacy available to them in terms of cannabis medicine. Some varieties of cannabis are most appropriate for particular diseases and ailments, but not others. Choosing the right strain is critical to ensuring that patients receive the best therapy possible.
Cannabis is a species of flowering herb that is split into three subspecies: Indica, sativa, and ruderalis. Ruderalis plants are small and yield relatively little medicine; what they do provide lacks potency and is generally not appealing to patients. Because of this, ruderalis strains are typically avoided by breeders and cultivators; the focus of the medical cannabis community is on indica and sativa strains.
Indica and sativa plants differ not only in their physiological effects, but also in their appearance. Indica plants are short and stocky, featuring leaves that are broad and "chunky." Sativa plants tend to be taller and skinnier and may even be lanky in appearance, with leaves that are thin and pointed.
Medical Efficacy
The most important difference between these two subspecies of cannabis, however, is in their medical effects and how they influence energy levels and productivity. Indicas tend to decrease energy and are better for consumption in the evening or at night, after the conclusion of the day's work and activities. Potent indica strains may give some patients what is called "couchlock," a condition in which they become so relaxed that they care barely get up from the sofa.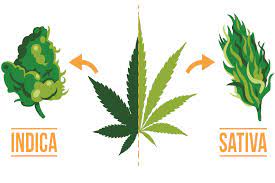 Sativas, on the other hand, are uplifting and cerebral, enhancing creativity and productivity. Indicas provide what has been called a "body high," while sativas deliver more of a "mind high." Unfortunately, sativa plants require longer to grow and yield less medicine (flowers) than indica varieties. This is why indica strains have traditionally dominated those available on the black market, where there is no concern for patient need and the sole focus is profit.
The fact that patients are given no choice of subspecies or strain when purchasing from the black market is a major reason it should be avoided. Patients should never trust or consume cannabis medicine without knowing its exact strain and that it was properly grown, dried, cured, and laboratory tested for purity and potential contamination.
Modern cultivators of medical cannabis purposefully breed and grow a wide spectrum of strains within both the indica and sativa categories for the purpose of making available the right medicine for a particular patient's unique combination of disease, preference, and lifestyle. Often, patients must maintain jobs or family responsibilities that demand a particular energy level and can't tolerate the sedative properties of many indicas. Other times, patients must seek the most potent non-opiate painkiller possible. Given the choice of chronic pain or the mellowing effects of a strong indica of a particular strain known for its medical benefits, most patients will choose the latter.
Because cultivators and dispensaries are sensitive to the subjective efficacy of particular strains for different patients, they grow and make available as many strains as possible for targeted ailments. Major conditions of focus include HIV/AIDS, cancer, fibromyalgia, glaucoma, Parkinson's, all types of arthritis, and epilepsy, among many others.
In terms of particular ailments, sativa strains tend to be better for psychological disorders like depression, PTSD, and anxiety. Indicas are often the best for pain and inflammation and, thus, are beneficial for patients with arthritis, fibromyalgia, and cancer. However, because so many diseases are accompanied by side effects like depression and insomnia, a patient must consider treating both their core disease and also its daily symptoms. In the end, each patient will favor multiple strains that will likely fall within the categories of sativa, hybrid, and indica.
When it comes to aroma, indica strains tend to emit musty, earthy, and skunky odors, while sativas smell sweet, fruity, or spicy. This difference in aroma is the result of terpenes, the molecules within the plant that are cousins to cannabinoids like THC and CBD. While these chemicals provide sometimes stunningly pungent odors, their greatest benefit to patients is actually their medicinal efficacy.
Indica vs. sativa: understanding the basics
When cannabis consumers think of "indica" vs. "sativa" marijuana strains, they generally think that indica strains are physically sedating, perfect for relaxing with a movie or as a nightcap before bed, and sativa strains are energizing with uplifting cerebral effects that pair well with physical activity, social gatherings, and creative projects. Hybrid strains are thought to have a mix of indica and sativa effects.
But indica doesn't always mean "in da couch," and sativa doesn't necessarily energize all of its consumers. As research opens up and we learn more about the cannabis plant, it turns out the chemical compounds in each strain—the cannabinoids and terpenes in it—determine the effects you'll feel, not whether it's an indica or sativa. In fact, the origins of those two terms are rooted in botany, not effects.
However, even today, the belief that indicas, sativas, and hybrids deliver distinct effects is still deeply rooted in mainstream cannabis culture. If you've ever been to a dispensary, you've likely heard a budtender begin a strain recommendation by asking which of those three types you prefer.
Let's look at where the terms "indica," "sativa," and "hybrid" actually come from, and how a cannabis strain's chemical profile interacts with your unique body to make you feel effects.
Origin of indica and sativa
The words "indica" and "sativa" were introduced in the 18th century to describe different species of cannabis: Cannabis sativa and Cannabis indica. The term "sativa" described hemp plants found in Europe and western Eurasia, where it was cultivated for its fiber and seeds. Cannabis indica refers to the intoxicating varieties discovered in India, where it was harvested for its seeds, fiber, and hashish production.
Here's how terms have shifted since their earliest botanical definitions:
Today, "sativa" refers to tall, narrow-leaf varieties of cannabis, thought to induce energizing effects. However, these narrow-leaf drug (NLD) varieties were originally Cannabis indica ssp. indica.
"Indica" has come to describe stout, broad-leaf plants, thought to deliver sedating effects. These broad-leaf drug (BLD) varieties are technically Cannabis indica ssp. afghanica.
What we call "hemp" refers to the industrial, non-intoxicating varieties harvested primarily for fiber, seeds, and CBD. However, this was originally named Cannabis sativa.
Although the cannabis varieties we consume largely stem from Cannabis indica, both terms are used—even if erroneously—to organize the thousands of strains circulating the market today.
What impacts strain effects?
So if indica and sativa aren't the best predictors of effects, what is?
The effects of different strains of weed depend on a number of different factors, but mainly on the cannabinoids and terpenes in the strain, or the chemical compounds in it.
Cannabinoids
The cannabis plant is composed of hundreds of chemical compounds that create a unique harmony of effects, which is primarily led by cannabinoids. THC and CBD are the two most common cannabinoids and are the main drivers of cannabis' therapeutic and recreational effects.
THC (Δ9-tetrahydrocannabinol) makes us feel hungry and high, and relieves symptoms like pain and nausea.
CBD (cannabidiol) is a non-intoxicating compound known to alleviate anxiety, pain, inflammation, and many other medical ailments.
Cannabis contains dozens of different cannabinoids, but start by familiarizing yourself with THC and CBD first. Instead of choosing a strain based on its indica or sativa classification, consider basing your selection on these three buckets instead (both indica and sativa strains exhibit these different cannabinoid profiles):
THC-dominant strains are primarily chosen by consumers seeking a potent euphoric experience. These strains are also selected by patients treating pain, depression, anxiety, insomnia, and more. If you tend to feel anxious with THC-dominant strains or dislike other side affects associated with THC, try a strain with higher levels of CBD.
CBD-dominant strains contain only small amounts of THC and are widely used by those highly sensitive to THC or patients needed clear-headed symptom relief.
Balanced THC/CBD strains contain similar levels of THC and CBD, offering mild euphoria alongside symptom relief. These tend to be a good choice for novice consumers seeking an introduction to cannabis signature high.
Terpenes
If you've ever used aromatherapy to relax or invigorate your mind and body, you understand the basics of terpenes. Terpenes are aromatic compounds commonly produced by plants and fruit. They can be found in lavender flowers, oranges, hops, pepper, and of course, cannabis. Secreted by the same glands that ooze THC and CBD, terpenes are what make cannabis smell like berries, citrus, pine, fuel, etc.
One question yet to be answered by research is how terpenes—and different combinations of those terpenes – shape the effects of different cannabis strains.
There are many types of terpenes found in cannabis, and it's worth familiarizing yourself with the most most common—especially myrcene, caryophyllene, limonene, and terpinolene, since they're the most likely to occur in pronounced levels in cannabis.
Biology, dosing and consumption method of cannabis
Additionally, your tolerance to cannabis, the amount you consume (dosage), and the consumption method will also determine how a strain affects you. Consider the following questions when looking for the right strain or product.
How much experience do you have with cannabis? If your tolerance is low, consider a low-THC strain in low doses.
Are you susceptible to anxiety or other side effects of THC? If so, try a strain high in CBD.
Do you want the effects to last a long time? If you do, consider edibles (starting with a low dose). Conversely, if you seek a short-term experience, use inhalation methods or a tincture.
There are many factors to consider when choosing a strain, but if you find that indica strains consistently deliver a positive experience, then by all means, stick to what you know. However, if you're still searching for that ideal strain, these are important details to keep in mind.