THC (tetrahydrocannabinol) as the element in weed that, well, gets you high. But the compound THC, one of over 400 found in marijuana, is actually more complex than that. So, what is THC and how does it work? Experts weighed in to give The Street the latest scoop on THC's applications. 
What is THC?
THC, also called tetrahydrocannabinol, is the compound in cannabis that is psychoactive and gives you the feeling of being high. However, THC's chemical make-up, C₂₁H₃₀O₂, is very similar to its counterpart, CBD, which actually combats the effects of THC.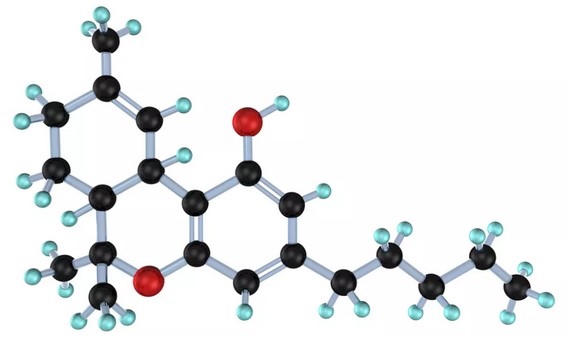 Still, THC mimics the natural chemical anandamide (which is produced in the brain) in structure, altering the function in communication. So, instead of normal brain communication via neurons, the THC compound attaches to the neurons and changes the process.
According to the National Institute on Drug Abuse (NIDA), THC affects things like thinking, memory, pleasure, movements, concentration, coordination, and sensory and time perception. For these reasons, doing things like operating heavy machinery or driving while under the influence of the drug may be dangerous.
Still, the stigma that THC gets (especially in relation to marijuana use) may not entirely be the whole story. THC actually brags several health benefits that have been shown to help treat depression, PTSD, epilepsy, and even eating disorders.
THC Composition
THC has the chemical formula C₂₁H₃₀O₂, with a molecular mass of 314.464 g/mol. But, it is very similar in structure and molecular mass to its counterpart CBD, which dilutes the effects of THC.
THC Uses
THC brags a variety of uses, both medicinal and recreational.
Among dozens, THC can be used in syrups, edibles, oils used via tinctures, drops, in medicines, and topicals including lotions and balms used for anti-inflammation.
THC and cannabis can also be used on animals like dogs for pain relief and calming anxiety.
Additionally, Marinol, a medication made with synthetic THC, is the only currently FDA approved THC medication.
THC Legality
Currently, THC (more broadly blanketed under cannabis) is legal medically in 29 states, while recreational marijuana is legal in 9 states and Washington D.C.
However, recent reports indicate legalization may begin becoming more widespread.
In fact, this month the New York State Health Department released a report claiming the "positive effects of a regulated marijuana market … outweigh the potential negative impacts," according to New York Daily News.
Still, THC (within marijuana) is increasingly becoming a hot topic in the discussion for legalization. And, its advocates are coming from high up.
"The process to legalize and properly regulate marijuana should be seriously reviewed and advanced," said New York Senate Democratic Leader Andrea Stewart-Cousins (D-Westchester) in a statement in 2018. "More and more New Yorkers understand the harm that has been done by criminalizing marijuana, arresting and giving records to millions of our youth, and allowing shadow markets to flourish. We need to start to undo the damage from this misguided policy, and that means advancing common sense legalization efforts."
However, given the controversial nature of the compound, it is unclear when these waves of "common sense" legalization will occur.
THC vs. CBD
Despite the two compounds having almost exact chemical makeups and being part of those that make up cannabis, THC and CBD act rather differently.
THC is the psychoactive component in marijuana that gives you the feeling of being high – however, CBD acts as a counterbalance to the effects of THC. While THC induces drowsiness and gives you that body-high, CBD can actually increase energy.
CBD can often help moderate THC's effects by reducing anxiety or stress.
You can also learn more about how CBD and THC are different here.
THC Effects on the body
THC stimulates cells in the brain to release dopamine, creating euphoria, according to NIDA. It also interferes with how information is processed in the hippocampus, which is part of the brain responsible for forming new memories.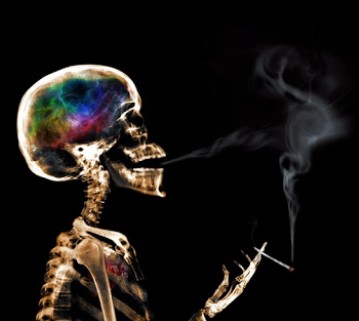 THC can induce hallucinations, change thinking and cause delusions. On average, the effects last about two hours, and kick in 10 to 30 minutes after ingestion. Psychomotor impairment may continue after the perceived high has stopped, however.
"In some cases, reported side effects of THC include elation, anxiety, tachycardia, short-term memory recall issues, sedation, relaxation, pain-relief and many more," said A.J. Fabrizio, a marijuana chemistry expert at Terra Tech Corp, a California agricultural company focused on local farming and medical cannabis. However, he said, a study in the British Journal of Pharmacology found that other types of cannabinoids, as well as terpenes (compounds that produce flavor and fragrance in plants), can modulate and reduce negative effects.
Risks
The effects of marijuana make it a popular drug. In fact, it is considered one of the most commonly used illicit drugs in the world. But these effects also concern mental health advocates. THC can trigger a relapse in schizophrenic symptoms, according to NIDA.
Another possible risk of consuming THC comes in the form of impaired motor skills. Marijuana may impair driving or similar tasks for approximately three hours after consumption and it is the second-most common psychoactive substance found in drivers, after alcohol, reports the National Highway Traffic Safety Administration. People taking medical marijuana are instructed not to drive until it has been established that they can tolerate it and conduct motor tasks successfully.
The use of marijuana may cause problems for younger people, and long-term problems. "Some of the side effects of THC include a decrease in IQ, memory and cognition, especially in younger people," said Dr. Damon Raskin, medical director at Cliffside Malibu Treatment Center. "However, the jury is still out on long-term effects, as not enough research has been done on it yet. There is some speculation that it could impair fertility in men and women and also compromise a person's airways, but the studies are still not clear."
A study by the University of Montreal published in the journal Development and Psychopathology in 2016 found that early use of marijuana can affect teens. Smokers that start around age 14 do worse on some cognitive tests than non-smokers. The study on almost 300 students found that pot smokers also have a higher school dropout rate. Those that waited to start around age 17 did not seem to have the same impairments.
NIDA reports that rats exposed to THC before birth, soon after birth or during adolescence have shown problems with specific learning and memory tasks later in life.
The drug can also have drug interactions with certain medications.
THC Health Benefits
Indeed, there have also been countless reports of the many health benefits of THC and cannabis.
Although still speculative, THC has been shown to potentially help increase appetite in eating disorder patients, help with neurodegenerative diseases, and even potentially help cancer patients. Studies have shown that THC may help patients with Alzheimer's and Parkinson's diseases, as well as provide pain relief for some patients.
In fact, even Dr. Checkley concluded that THC and cannabis have several proven benefits, including relieving symptoms like vomiting for chemotherapy patients and providing pain relief.
And, other experts feel there is room for optimism regarding where THC applications could reach.
While many doctors are still hesitant to use the seemingly controversial compound, others have only glowing reports of the drug's effectiveness in treating a wide variety of medical issues. One such advocate is Dr. Aung-Din, M.D. — a general neurology and neuro-psychiatry specialist — who is also board-certified by the American Board of Psychiatry and Neurology and is a member of the American Academy of Neurology. He was formerly skeptical of THC and cannabis — but a pivotal case changed his mind.
When presented with a case of a 23-year-old male who had suffered brain injuries at 15 and was having intractable seizures, Dr. Aung-Din was persuaded by the patient's mother to try cannabis medication as a treatment — which worked.
After seeing the effectiveness of cannabis for treatment of medical conditions like seizures, Dr. Aung-Din continued to research and now claims there is enormous potential for cannabis or cannabinoid-based medications.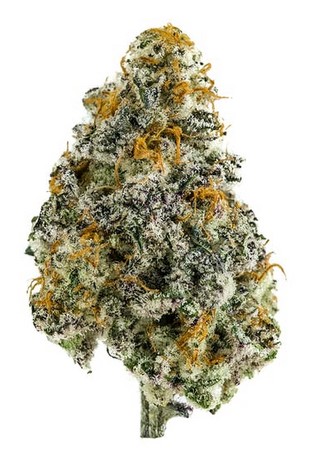 While normal, FDA-approved pharmaceuticals actively change receptor processes in the body, THC and cannabis apparently work a bit differently by capitalizing on natural processes.
"When we use cannabis, we are capitalizing on our own endocannabinoid system," says Dr. Aung-Din. "We make endocannabinoids, and we have CB1 and CB2 receptors, so when you use cannabinoids, you're actually using those receptors, whereas traditional pharmaceuticals either block or stimulate processes. But modulation is what cannabinoids use, which is a much better process."
Despite the various reports of its effectiveness, only one THC-based drug is currently FDA approved, while only one CBD-based drug, Epidiolex, got the stamp of approval as well.
Still, even though THC-based medication Marinol has been FDA-approved for a while, the synthetic THC it uses may not be as effective as natural THC or cannabis, Dr. Aung-Din claims. But there have been reports of numerous other health applications of THC and cannabis.
"I'm treating patients with PTSD, fiber myalgia, cancers [and am] finding cancers regressing when chemo therapy was not helping, so it's a pretty amazing journey," he says.
In fact, THC and cannabis' potential effectiveness in treating cancer has long been noted, but has yet to find widespread uses in the field.
Overdose
Edibles, foods containing THC, have become a large problem in states that have legalized pot because of overdosing.
"Edibles can lead to overdose sometimes because people often ingest a full serving of a cookie instead of a diagnosed smaller amount," Raskin said. "I mean, who eats a half a cookie? It is easier to swallow a cookie and it's very attractive to younger people or those who don't want to inhale it in a smoke form."
Raskin also explained that edibles are extremely high in potency, and when ingested in the gastrointestinal tract, the drug can last longer and with greater intensity. "The effect from inhaling THC will last 45 minutes to a few hours, but edibles can last for six to eight hours and are more likely to lead to a trip to the ER with an overdose," he said.
Concentrations of THC in cannabis
When THC is exposed to air, it degrades into cannabinol, a cannabinoid that has its own psychological effects. THC concentration also depends on the cultivation of the marijuana plant, known scientifically as Cannabis sativa L.
A type of cannabis that has a minimal amount of THC, as low as 0.5 percent, is hemp, according to the North American Industrial Hemp Council. Hemp is used for industrial and medical purposes.
Some strains of cannabis can have as little as 0.3 percent THC by weight. In other strains, THC makes up 20 percent of the weight in a sample. The National Highway Traffic Safety Administration reports that the average THC concentration in marijuana is 1 to 5 percent; in hashish, it is 5 to 15 percent, and in hashish oil, it averages 20 percent. THC in recreational doses of marijuana is highly variable and the lower the THC content in the marijuana, the more the user must consume to produce the desired effects.
While it is still not legal at the federal level, many states have approved the use of cannabis and THC for medical and, in some states, recreational purposes. You should always check state laws where you live before purchasing any products containing THC.