Depression is a complex disorder, and cannabis is a complex plant. Research has yet to demystify the relationship between the two, and that's an important consideration for those suffering from depression.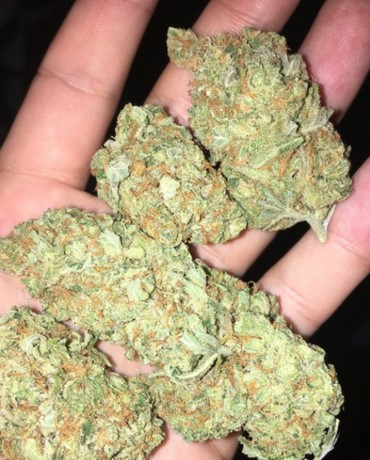 Despite these complexities, there are individuals who claim that cannabis helps them through depression. For some, cannabis can imbue the mind with an elevated sense of engagement and motivation. It can stimulate hunger, conversation with friends, and interest in hobbies and creative escapes. We highly encourage you to communicate with your medical professional to determine how cannabis may interfere with your current treatments and medications.
It's important to recognize that cannabis doesn't serve everyone. If you find that cannabis is becoming a burden on your journey, it's okay to set it aside temporarily or for the long haul.
And finally, remember that not all cannabis strains are equal:
THC strains are the most common. They produce the euphoric high associated with cannabis, along with appetite stimulation. Some people find THC's effects to pique curiosity and motivation, but others may find that it worsens anxiety. For high-THC strains, look for strains with diamonds below.
CBD strains are less common. Because their effects range from no high at all to mild intoxication, these strains are often preferred by those who are new to cannabis or anyone looking to avoid the anxious side effects of THC. For CBD strains, look for strains with circles below.
As you explore new cannabis strains, pay attention to the terpenes (colors) that make up your favorites. These aromatic compounds are important to your experience as they shape the aroma, flavor, and potentially even the effects associated with different strains.
Cinex
Primary terpenes: Limonene, caryophyllene, pinene
Cannabinoid profile: THC-dominant
With an uplifting citrus scent and a peppery kick, Cinex is the perfect strain for cultivating positive energy and stimulating a creative mindset. It's best taken at the start of the day when the increased sense of energy and focus can be fully harnessed, although patients with a tendency for anxiety should be aware that Cinex contains up to 25% THC.
Cinex is rich in limonene, a zesty terpene also found in oranges and lemon rind that's believed to elevate mood and provide relief from anxiety. Limonene is currently attracting attention as research shows that it naturally increases dopamine and serotonin levels on the brain, just like antidepressant medications. Lemon Haze is another cannabis strain high in limonene, but with a slightly lower THC content hovering around 15% to 20%.
Jack Herer
Primary terpenes: Terpinolene, caryophyllene, pinene
Cannabinoid profile: THC-dominant
Jack Herer is a strain cherished for its uplifting qualities that inspire happiness and creativity. With an aroma of sharp pine and freshly cut wood, Jack can provide a sense of comfort and motivation on low days.
With an aroma of sharp pine and freshly cut wood, Jack Herer is a popular morning pick-me-up on low days. It's said to deliver an energetic cerebral rush, which leaves users feeling happy, uplifted, and focused for the day ahead.
While the exact genetics are kept secret, those in-the-know believe Jack Here is a combination of two high-THC strains: Shiva Skunk and Northern Lights #5. Seemingly, Jack Herer strains contain between 15% and 24% THC according to laboratory tests conducted by Analytical 360. Patients who choose Jake Here will also benefit from the uplifting effects of terpinolene, which provides a fresh aroma with lingering hints of cumin and nutmeg.
Harlequin
Primary terpenes: Myrcene, pinene, caryophyllene
Cannabinoid profile: Balanced THC/CBD
Harlequin balances the benefits of both THC and CBD, resulting in a strain that can deliver relief alongside a clear head. CBD helps counteract the sometimes anxiety-inducing effects of THC, so if you're prone to nerves, Harlequin is for you.
Granddaddy Purple
Primary terpenes: Myrcene, caryophyllene, pinene
Cannabinoid profile: THC-dominant
Granddaddy Purple is a soothing strain that can awaken appetite and encourage a sense of serenity throughout the mind and body. This strain is best saved for late nights when you need a little help finding a cool, calm headspace before bedtime.
Granddaddy Purple, or GDP, is a legendary THC-dominant strain that's been calming minds and stimulating appetites throughout California since 2003. Bred from Purple Urkle and Big Bud, this well-known staple has a sweet berry aroma and flowers that bloom in deep and dark shades of purple.
GDP is a perfect nightcap with up to 23% THC and a heavy dose of relaxing myrcene. It's palpable physical and mental effects are felt almost immediately, delivering a profoundly calming sensation with a simultaneous full-body relaxation that lulls the mind and body into a restful sleep. If your depressive symptoms are related to chronic pain or insomnia, you will benefit from this medicinal combination.
Cannatonic
Primary terpenes: Myrcene, pinene, caryophyllene
Cannabinoid profile: Balanced THC/CBD
Cannatonic is another high-CBD strain that delivers you to bliss without the anxiety often associated with high-THC strains. If THC makes you feel sluggish or hazy, consider the clarity and unencumbered relief Cannatonic offers many consumers.
XJ-13
Primary terpenes: Terpinolene, caryophyllene, pinene
Cannabinoid profile: THC-dominant
With its bright citrusy aroma, XJ-13 has a way of throwing color back into the world and sharpening the senses. If you're looking to invite curiosity, creativity, or a social spark back into your mind, you might consider this sweet, uplifting strain.
Blackberry Kush
Primary terpenes: Myrcene, limonene, caryophyllene
Cannabinoid profile: THC-dominant
Can't seem to shake those late-night thoughts keeping you up? Let Blackberry Kush ease you into sleep with its meditative tranquility that helps you find stillness in mind and body.
Harlequin
Cannabinoid Profile: CBD-dominant
Primary Terpenes: Pinene, myrcene, caryophyllene
With a standard THC to CBD ratio of 2:5, Harlequin is a CBD-dominant strain that's highly sought after for its medicinal benefits, particularly depression, anxiety, and pain. Based on lab tests by Analytics 360, Harlequin strains contain between 4-10% THC and 6-15% CBD. Due to this high CBD concentration, Harlequin delivers a sense of happiness and relation without the THC-induced psychoactive high.
If you suffer from anxiety, in addition to depression, opting for a CBD-dominant, like Harlequin, may help clear your mind without the risk of paranoia.
Charlotte's Web
Cannabinoid Profile: CBD-dominant
Primary Terpenes: Pinene, myrcene, caryophyllene
Charlotte's Web has quickly become one of the best strains for depression and is another excellent option for individuals who are prone to THC-induced paranoia. It was derived from industrial hemp by the Stanley Brothers in 2006 specifically for Charlotte Fig, a young patient with a rare form of epilepsy called Dravet syndrome. Prior to treatment, Charlotte was experiencing 300 seizures a month. But, since using Charlotte's Web, her seizures have decreased to 4 per month. When this life-changing story was publicized on CNN, it sparked significant public intrigue. Now, many patients use Charlotte's Web to gain relief from other debilitating symptoms ranging from headaches to depression.
It contains between 15% and 20% CBD and a negligible amount of THC (0.3%). For this reason, Charlotte's Web has no psychoactive effects, making it a highly popular medicinal strain for those that are sensitive to THC.
Choosing the Right Strain
Finding the right strain for your depression is a process of discovery. Depression is a complex condition, and marijuana is a complex plant. For that reason, you may need to try several different strains until you find the right combination.
Dosage is also extremely important. It's recommended that you start with a low dose and only increase under the guidance of a professional to prevent any adverse reactions. If you're new to cannabis, THC Physicians can help use medical marijuana safely and legally with a medical marijuana card.