What's The Difference?
THCA is a cannabinoid that until recently has been closely compared to THC. Though THCA doesn't get one high and THC certainly does, there is a relation: THCA is the precursor to psychoactive THC effects.

So why does THC get us elevated and THCA doesn't? The reason is due to the three-dimensional shape of the THCA molecule. It is a larger molecule that doesn't fit into our cannabinoid receptors, specifically the CB1 receptors. A cannabinoid must fit into a body's CB1 receptor in order to have an intoxicating effect at all.
The cannabis plant produces hundreds of cannabinoids, the chemical compounds responsible for the therapeutic and psychoactive effects of cannabis. Only a few cannabinoids contribute to the euphoric high that is unique to the cannabis plant, though. The most celebrated, researched, and sought after is THC.
It's commonly assumed that during the marijuana plant's growth process that it is ramping up THC levels until ripe for the picking, but the primary cannabinoid being produced is actually THCA. How does THCA become THC?
The simplified answer is through heat and light — or the process of decarboxylation. Heat removes a carboxylic acid group of atoms from THCA, converting it into a molecule and altering the THC chemical structure, thus becoming the perfect shape to fit into our endocannabinoid system (ECS) CB1 receptors that run throughout the central nervous system, producing the elevated experience.
The non-intoxicating effects of THCA are a big part of the reason that fresh, raw, unheated cannabis is a superfood. You may have heard of juicing cannabis or adding raw cannabis to smoothies for health enhancement. There's good reason.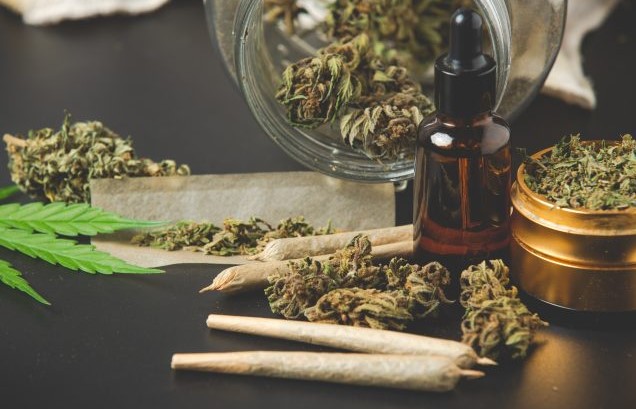 Like other superfoods, including avocados, kale, Greek yogurt, green tea, and garlic, raw cannabis has potential to ease arthritis, chronic pain, fibromyalgia, and other ailments.
THCA is believed to offer an assortment of medicinal benefits, and is commonly used as a nutritional supplement and dietary enhancement for its:
Anti-inflammatory properties — A 2011 study published in the Biological and Pharmaceutical Bulletin suggested that, along with other cannabinoids, THCA demonstrated anti-inflammatory properties.
Anti-proliferative properties — A 2013 study that analyzed cell cultures and animal models concluded that THCA could prevent the spread of prostate cancer cells.
Neuroprotective properties — In a 2012 preclinical study published in Phytomedicine, researchers found that THCA showed the ability to help protect against neurodegenerative diseases.
Antiemetic properties (increasing appetite and decreasing nausea) — A 2013 study conducted by researchers at the University of Guelph in Ontario found that both THCA and CBDA were effective in reducing nausea and vomiting in rat models, even moreso than THC and CBD, respectively.
Most cannabinoids, including cannabidiol (CBD), cannabigerol (CBG), and tetrahydrocannabivarin (THCV), are in the acidic form (CBDA, CBGA, and THCVA) when cannabis is harvested. The unactivated forms of THC and CBD, along with other cannabinoids, have benefits themselves that we are still learning about.
It's only after these unactivated cannabinoid acids go through the decarboxylation process, though, that they become the cannabinoids we're most familiar with and that most interact with our ECS.
The acidic precursors are considered "thermally unstable," which is another way to emphasize that they will alter when exposed to heat. Because of this instability, the molecules lend themselves to several different methods of decarboxylation.
THCA vs. THC: Decarboxylation Process
Here are the most common ways that weed is decarboxylated:
Sunlight conversion: THCA converts to THC in varying degrees through exposure to heat or light. If a cannabis plant sits in the warm sun for an extended period of time, its THCA molecules will slowly convert to THC.
Room temperature conversion: THCA also converts to THC when stored at room temperature for a long enough time. In olive oil, 22 percent of THCA will convert over the course of 10 days at 77 degrees Fahrenheit, or 25 degrees Celsius. Under the same conditions, 67 percent will convert in an ethanol extraction. And over time, cannabis stored at room temperature and with little light exposure, will convert 20 percent of its THCA into THC.
Smoking: When a flame is used to smoke dried, cured bud, a high degree of heat is applied in a short amount of time, resulting in the rapid conversion of THCA to THC. However, not all THCA will convert and, though smoking is the most common way to enjoy THC's effects, it's not the most efficient.
Vaporizing: This is perhaps the most efficient way of decarboxylating ground nugs. When heated at a low temperature, the cannabinoids are converted and released. Continuing to increase the heat with each pull or sesh will make sure that the prime amount of THCA is converted into THC and binds to CB1 receptors.
Vape pens: Even more efficient than vaporizing flowers is the use of already decarboxylated cannabis distillate found in preloaded vape pens. Since the THCA is already mostly converted to THC and the following vaporization takes care of even more, this is a good, efficient method of taking in intoxicating cannabis. Be sure you're using a reliable brand of vape pen, for safety's sake, and do your best to purchase products that are recyclable.
Benefits of THCa vs. THC
Cannabis is an incredible superfood because it is dense with vitamins, minerals and antioxidants. Not only is raw cannabis high in fiber, but also omega-3 fatty acids, vitamins C and K, calcium, iron and folate. In addition, ongoing research into the benefits of THCa and THC has already produced very intriguing conclusions. Apart from being a non-psychoactive alternative to many of the benefits of THC, THCa can help support the body's ability to fight nausea and appetite loss, inflammation and pain. So if you're struggling to find natural solutions to support whatever it is your body may be needing — whether it's after a long and stressful day or to help in recovery, THCa can be the perfect option for you. Here are some additional benefits of THCa:
THCa may have neuroprotective properties, showing promise in the relief from symptoms
of neurodegenerative disorders.
THCa and other cannabinoids deserve further research in the treatment of various types of epilepsy.
Research shows promise for THCa in the reduction of inflammation due to inflammatory bowel diseases.
Early studies in mice suggest that THCa reduced weight gain and inflammation associated with diet-induced obesity.
A significant feature of THCa is its ability to work at lower doses than THC. The therapeutic potential of THCa is all the more exciting due to legalization of the cannabis plant in conjunction with the non-psychoactive nature of the compound, making it readily accessible to most anyone who would like to try it. Not only can you get the benefits of THCa from raw cannabis, but also get a few key nutrients in as well.
Understanding the plant's properties and how and why they interact with our bodies the way they do is extremely important in achieving the maximal benefits while avoiding adverse side effects. Cannabis molecules each have their own benefits and as raw cannabis is further studied, we will learn more about their benefits.