Rosin refers to an extraction process that utilizes a combination of heat and pressure to nearly instantaneously squeeze resinous sap from your initial starting material. The term "rosin" originated as a method of making a product used to create friction with violin bows.
What is rosin made of?
This cannabis product is extremely versatile, as rosin is made of marijuana flower, hash, or kief and transformed into a full-melt hash oil. The result is a translucent, sappy, and sometimes shatter-like product that can be consumed as rosin dabs. If executed correctly, rosin can rival the flavor, potency, and yield of other solvent-based extraction products.
Is rosin full-spectrum?
Also known as whole-plant extracts, full-spectrum extracts are known by that name because they retain the cannabis plant's full profile and typically contain a variety of cannabinoids, terpenes, and other compounds. They're quite difficult to produce because many extraction methods filter out some components during their refinement process.
Depending on how it's extracted, rosin (especially flower rosin) can be considered full-spectrum. Hash rosin, however, is more commonly a select-spectrum extract.
Rosin vs. resin
How is rosin different from resin? Broadly speaking, resin refers to a viscous substance derived from plants. Live resin can be made from cannabis concentrate by taking fresh cannabis and freezing it to subcritical temperatures both before and during the extraction process. This allows the live resin to retain the plant's terpene profile, whereas with rosin, certain extraction processes may result in a loss of some terpenes.
More about rosin
Rosin is a solventless extract that uses heat and pressure to force the compounds within the trichome gland out of the cannabis plant, where all of the THCA, other cannabinoids, and terpenes are located. Think of it like squeezing the juice from grapes or oil from olives, with the end result being similar to butane hash oil (BHO), but without the harmful chemicals.
The rosin process serves as an alternative to a closed-loop extraction system, which outside of cannabis production, is used in making essential oils. Closed-loop extraction is time-consuming, requires technical training, a lot of expensive equipment — pumps, a tank, and a specially designed room to perform the extraction — and you won't have a solventless concentrate until you purge all the residual solvents using a vacuum oven. Even then, there may still be minor amounts leftover in solvent-based extracts. (Warning: Do not try any processes involving chemicals at home; these should be left to a professional.)
While rosin will also have a high THCA concentration and should be consumed carefully, the process of making rosin is considered safer than many other concentrates. With the temperature and pressure used during the rosin extraction tending to dictate color and consistency, rosin is available as shatter, wax, badder/batter/budder, rosin coins, and taffy.
Consumer preference for rosin
Why do some prefer rosin? Although it's a slight misnomer, rosin is known as a solventless technique because it doesn't use any external solvents to dissolve the trichome. However, natural hydrocarbon terpenes act as a solvent. Thus, the only "solvents" left are the natural hydrocarbon terpenes from the trichome glands.
Rosin can turn low-quality hash into a dabbable wax. It's also a very quick process compared with other extraction methods. It doesn't require time in a vacuum oven to purge out residual solvents. It can be made safely at home with minimal investment, allowing home growers to make the most of their trim, typically a byproduct that's thrown away.
Nugs
Rosin from buds typically has some contaminants in the form of plant material that makes it through to the final product. They tend to be small pieces, but they can make a big difference to the flavor when dabbing rosin. The plant material will add a layer of burnt flavor to the overall experience. To avoid having too much plant material in your rosin, try using a rosin screen or mesh bag.
Dry sift kief or hash
Rosin from kief adds an extra step to the preparation but tends to be cleaner, as the trichomes are removed from the buds prior to exposing them to heat and pressure. This extra step ensures that no plant impurities make their way into the final product.
Bubble hash rosin
Rosin from bubble hash is a great way to make use of lower-quality hash that does not fully melt as a result of plant contaminants. While you would not want to rosin 5-star or 6-star hash, rosin is a simple way to make your non-dabbable one to two-star hash into a flavorful dab.
Fresh frozen ice hash
This process makes live rosin, which is highly sought after due to the high cannabinoid and terpene retention of the fresh frozen cannabis. Similar to live resin — butane hash oil made from frozen buds — live rosin is rosin made from frozen buds.
While flowers that were frozen directly after being harvested are considered "live," to get to live rosin, you'll need to first make ice hash with the fresh from plant material. If the resulting ice hash concentrate falls between a one- and four-star rating, it can be placed into a bag and put through the rosin production process to create live rosin. The end result is a strong and flavorful pure concentrate.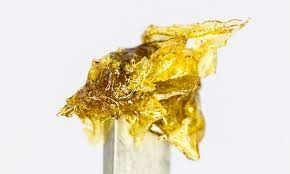 Why is rosin so popular?
One reason for rosin's newfound popularity is that it's a solventless technique, meaning the process does not require use of any foreign substances. Instead, rosin uses a mechanical process involving heat and pressure to extract the resin from the plant. Other extraction methods utilize light hydrocarbons such as butane and/or propane. Often, these complex and mechanical systems require a lengthy purge to safely remove most, if not all of the residual solvents from the final product.
Rosin, on the other hand, simply uses heat and pressure and does not require any additional cleaning, so your final product is clean and ready in just minutes. When compared to BHO (butane hash oil), the two are aesthetically indistinguishable. Rosin, when made properly, retains just as many valuable terpenes that account for aroma and flavor. However, in a lab test, rosin will never contain a single parts per million (PPM) of residual hydrocarbon. In other words, you are essentially getting shatter without any solvents when using this process.