There are a lot of criteria when choosing cannabis gummies: CBD/THC content and ratios, flavors, consistency. But there's one criterion that perhaps you've never considered: whether the gummies are made from animal by-product. 
A  majority of cannabis gummies use gelatin as a base.
While it is often said that gelatin is made from "horses' hooves," that hasn't been true for a very long time. But the reality isn't much better: gelatin is made from the skin, bones, and connective tissue of livestock animals, as a by-product of meat and leather production. These days, pigs are the main source of gelatin.
Vegan gummies use pectin.
For that reason, you might want to opt instead for vegan gummies, such as Wana Brands which are made with pectin. You don't have to be a vegetarian or vegan to want to avoid animal by-products in your cannabis edibles because let's face it, that just sounds unappetizing. 
Pectin comes from citrus fruits.
Animal welfare and health aren't the only considerations. Pectin makes for a higher-quality product overall. It tastes better and has a better texture. Pectin is a fibrous component of fruits and vegetables. The kind that is used in foods is usually derived from citrus fruits. Wana tested more than 30 types of fruit pectin resulting in gummies that are the perfect consistency, and taste juicy, like real fruit.
An ideal choice for cannabis infused gummies.
Wana gummies are hand-crafted, with all-natural coloring, flavoring, and sugar, are gluten-free, and contain no mineral oil or artificial sweeteners, both of which can cause stomach upset. Wana gummies are infused with premium tinctures during the cooking process to ensure optimal taste and consistency, and come in a wide range of flavors and cannabinoid blends, from 100% THC to CBD-dominant ratios, and everything in between. All are lab-tested to ensure reliability and consistency.
A novel, quick acting gummy.
Wana recently launched the Wana Quick Fast-Acting Gummies featuring fast-acting technology and a novel edible experience. Traditional edibles can take up to two hours to feel the effects, a downside for many people. With the Wana Quick Fast-Acting Gummies, you'll feel the effects in just 5-15 minutes! In addition, these unique gummies have Delta-9-THC effects, similar to an inhalation effect, and last just up to three hours, versus the usual six hours with other edibles. So consuming is not such an investment of time.
Wana Quick Fast-Acting Gummies are all-natural, contain no high fructose corn syrup, and of course, are vegan with pectin.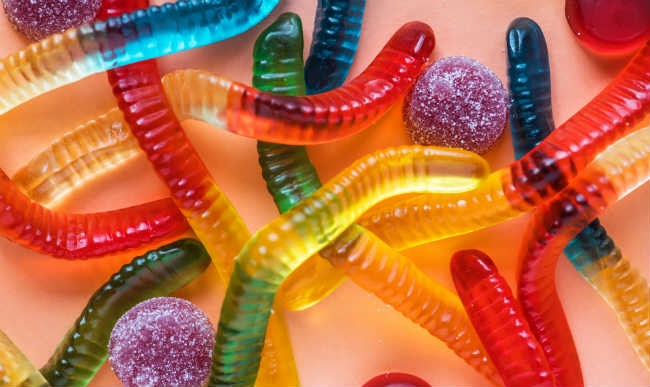 Benefits Of Vegan CBD Gummies
Cannabidiol (CBD) gummies are a fun and simple way to consume CBD. CBD has many therapeutic benefits that science is only beginning to appreciate. Some of the benefits to look forward to include:
*Pain relief
*Stress relief
*Relaxation
*Appetite boost
*Anti-inflammatory benefits
*Better sleep
Cannabidiol interacts with cannabinoid receptors that are found in different parts of the body. These receptors are part of the endocannabinoid system which is responsible for maintaining a balance of vital functions (homeostasis) in the body. Thus, eating a vegan CBD infused gummy will boost your endocannabinoid system and improve your wellbeing in the process.
Vegan CBD gummies have the extra advantage of being vegan. This means that people who prefer to avoid meat for health or other reasons can also enjoy these gummies. 
Cannabidiol is derived from cannabis (or hemp). However, it does not trigger euphoria because it is nonpsychoactive. You can enjoy vegan CBD gummies without worrying about getting high. This makes CBD safe for children as well.
Vegan CBD Gummy Recipe
With that background, here is what you've been waiting for.
What you will need to make 30 gummies:
-2 Cups fresh fruit juice: orange, passion, pineapple
-Half cup of cold water
-2 teaspoons agar agar powder
-150mg your choice of full-spectrum CBD oil
-Silicon mold
How To Make
Pour the fresh fruit juice into a saucepan and heat over medium heat, do not boil
Take a separate bowl and mix the agar agar powder with the cold water. Stir until the powder dissolves
Add the mixture of agar-agar powder and water to the saucepan and stir
Once the mixture is evenly mixed remove the saucepan from the heat and let to cool
Once the mixture has cooled, add your CBD oil
Pour the mixture into molds and put in the refrigerator
Once the mixture has set, remove from the refrigerator and carefully lift from the mold
Toss the gummies in icing sugar to prevent the gummies from sticking together
Store the gummies in a cool and dry place. Homemade gummies can keep for 10-15 days
There you have your DIY vegan CBD gummies. This recipe makes 30 gummies.
How To Make CBD Gummies With Jello
The recipe above caters to vegans. However, if you are "carnivorous" you can adjust the recipe to suit your needs.
Jello mix can be used in place of agar-agar powder. Jello mix contains gelatin which helps to turn the liquid fruit juice into jelly. Jello mix also adds flavor to the gummies.
Gelatin is derived from animal tissues such as bones and cartilage. After it is processed it becomes odorless and flavorless. Jello mix has added natural flavors.
Agar-agar powder is made from plants and has similar properties to gelatin. It helps liquids to solidify and adds bouncy properties to the gummies.
For this recipe, substitute agar agar powder with jello mix in the same proportion and at the same time.
Full-spectrum CBD Gummies or CBD Isolate Gummies
The other tweak you can make to this recipe is to switch the full-spectrum CBD oil to CBD isolate. Full-spectrum CBD gummies contain extra cannabinoids and terpenes which increases the robustness of the gummies. Terpenes give cannabis that unique smell and they also add therapeutic value. When combined with CBD, the benefits of CBD are compounded.
However, some people may prefer CBD isolate gummies. This means pure CBD with all terpenes and extra cannabinoids removed. Since isolates usually have 99% CBD, they are suitable for those who need high CBD levels. They also appeal to those who want to completely avoid tetrahydrocannabinol (THC), the compound that causes euphoria in weed. Full-spectrum CBD usually has trace amounts of THC; less than 1%. As much as this amount is negligible, some people prefer avoiding it altogether.
The CBD isolate will usually come in powder form and it will be odorless and tasteless. It is mixed into the recipe in the same way that the CBD oil is added.
CBD Gummies Dosage Guide
To find the amount of CBD in each gummy you take the total amount of CBD and divide by the number of gummies. From the recipe above, each vegan gummy contains 5mg of CBD.
CBD gummies will usually have between 5mg- 25mg of CBD. 5mg CBD is advantageous because it can be offered to children at a dose of 5mg per day. Adults can start with 10- 20mg of CBD.
CBD is safe even when taken in high doses. When side effects occur they are usually minimal and may include stomach upset, fatigue, or irritability. You should be okay to DIY this.
Go ahead and make vegan CBD gummies from scratch and let us know if you liked the recipe.
How to Make CBD Gummies at Home
To learn how to make CBD gummies at home enroll at the world's leading online cannabas school. Learn how to cook with cannabis and how to make cannabis extractions at home. Make your own  cbd oil, cannabutter, cannabis oil, and more.