Did you know that you can clone a cannabis plant? It may sound like a mad scientist experiment, but there are benefits to cloning a plant vs. growing from a seed, and cloning weed is easier than you think.
What is a cannabis clone?
A clone is a cutting, such as a branch, that is cut off of a living marijuana plant, which will then grow into a plant itself. A clone has the same genetic makeup as the plant it was taken from, which is called the mother plant.
A typical clone is about 6 inches in length, give or take, and after cutting it off the mother plant, the clone is put into a medium such as a root cube and given a hormone to encourage root growth.
After roots develop, it is then transplanted into a pot or the ground, and it will grow like any weed plant.
Why clone cannabis plants?
If you don't want to mess with seeds, clones can be a great option for starting a marijuana plant. Growing weed from a clone will save you time—even though they need time to root out, you don't have to germinate seeds, which will shave off a month or so of the growing process.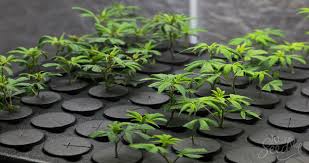 Clones will also save space in your garden—with seeds, you have to grow many and sex them out to identify and get rid of the males. Also, usually some seeds don't germinate. You'll need extra space for all those seeds, and they might not even turn into full plants.
If you take a clone from a plant you already have, they're free! You just need to invest in some supplies. Although, you can buy clones from a dispensary if you want.
One of the best things about clones is they are exact genetic replicas of the mother plant from which they were taken. If you have a particular marijuana plant you like, whether for its appearance, smell, effects, or something else, you can take clones of it and grow it again, ad infinitum.
There is some speculation that clones can degrade over time based on environment stressors and other factors, but that is open to debate.
What is a cannabis mother plant?
A mother plant is any cannabis plant you take a clone from. Mothers should be healthy and sturdy, as their genetics will pass on to the clones—if you have a sickly mother plant, its clones will also be sickly.
Mother plants always stay in the vegetative stage as clones are clipped off. It's important to not take cuttings off a flowering weed plant—this can cause the clone to turn into a hermaphrodite and may also damage the flowering plant.
Some growers have dedicated mother plants only for taking cuttings, but this setup takes up a lot of space and materials—you'll need to keep the mother plant alive, but you won't get any buds off it because it'll always stay in the vegetative stage. Some growers find it hard to justify devoting time, energy, and space to plants that won't produce buds. If your grow space is tight, this might not be the best setup.
Another method growers employ is to take cuttings off a set of mother plants before they flower, then flip the mothers into the flowering stage. The next generation of clones is grown, and when those get big enough, cuttings will be taken from those before getting flipped into flower. Because clones are genetically identical, each generation will be an exact copy of the first-generation mother and all subsequent mothers.
Cannabis mother plants guarantee genetic consistency, so each new generation of clones taken will have the same taste, flavor, effects, and other characteristics. Clones will also generally grow at the same rate as the mother, produce a similar quality product, and grow with the same vigor, allowing you to dial in your process and really get to know how to grow that particular weed plant.
Clones also guarantee that all of your weed plants are females, so you don't have to spend time growing from seed, sexing plants, and discarding males.
What to look for in a mother plant
As genetics are identical between a mother and a clone, it's important to choose a good plant as a mother. A wilty plant, or one that doesn't produce good buds, won't make a good mother.
Growers usually look for these qualities in a mother plant:
Sturdy, vibrant growth
Great aromas and flavors
Big yields
Dense trichomes
Resistent to pests and mold
How to clone a cannabis plant
What do you need to clone cannabis?
Cloning cannabis is relatively easy and requires just a few key items:
Scissors (for taking cuttings off the mother plant)
Razor (for trimming up cuttings)
Rooting setup (tray/tray-cell insert/dome/root cubes/heat mat, or an auto-cloner)
Rooting hormone
How to take a cutting
When selecting a mother plant to clone, look for plants that are healthy, sturdy, and at least two months into the vegetative cycle. You shouldn't take a clone off a plant once it starts flowering.RelatedLeafly's outdoor cannabis grower's calendar
Here's how to take a cutting:
Don't fertilize mother plants for a few days leading up to taking cuttings. This will allow nitrogen to work its way out of the leaves. When you take cuttings, an excess of nitrogen in the leaves and stems will trick your clones into attempting to grow vegetation instead of diverting energy to rooting.
Work in a sterile environment. Use gloves and disinfect razors and scissors.
Look for branches that are sturdy and healthy. You want at least two nodes on the final cutting, so pick a branch that is healthy and long enough. A sturdy clone will lead to a sturdy plant.
Cut the clone off of the mother, cutting above the node on the mother plant. It's OK to use scissors here; it may be hard to get a razor in the middle of the mother plant.
Then, using a razor, cut below the bottom node on the fresh cutting at a 45° angle to the branch. This will increase the surface area of the rooting surface, promoting faster growth.
Place your fresh cutting immediately into a rooting hormone. Then, put it directly into a root cube. If using an auto-cloner, you'll put rooting hormone in the cloner after you take all your cuttings.
Once done taking a cutting, remove unnecessary leaves toward the bottom and clip off the tips of the remaining fan leaves on the cutting. This supports photosynthesis, helping your clones uptake nutrients and water.
What to look for when buying a marijuana clone
If you live in a medical or adult-use state, you'll be able to get clones from some local weed shops, but make sure it's a reputable shop.
Most of the time, these clones come from growers who focus solely on producing clones, but sometimes cuttings will come from a third-party source. When purchasing clones for your home garden, always ask your shop where they came from. If you can't get a legitimate answer, find another source.
It's important to know the origin of your clones because that's where problems originate—diseases, pests, incorrectly labeled genetics, and unknown pesticide residues can come with a mystery clone.
Never hesitate to research a dispensary or grow facility before buying clones.
Inspect the cannabis clones
Not all pests, diseases, pesticide residues, or genetic markers will be easy to spot with the naked eye, but give your clones a good look before introducing them to your garden. If they look sickly or weak, they likely won't grow well.
Stem width
A clone's stem width is a great way to get a sense of its overall health and vigor. Thin and narrow stems typically mean the clone was taken from a weak or less viable branch. These cuttings may be more prone to disease or death and their root systems may take longer to develop.
Pests
Be sure to inspect all areas of your clone for the presence of pests. Large pests such as fungus gnats and spider mites can be spotted relatively easily.
Check under each leaf and also check the soil medium, as some pests live there. Certain pests can also leave markers—spider mites leave spots and webbing, and other insects can leave trace bite marks.
Disease
Many diseases can be difficult to detect in cuttings, but there are a few visual cues that can be seen early on. A lack of vigor is a major cue—check for limping leaves, irregular or mutated growth, and discoloration.
Powdery mildew (PM) is a very common disease found on clones, and mold spores can transfer to other plants. Keep an eye out for white powder on stems and leaves.
It's almost impossible to detect harmful pesticides or fungicides on a clone. Often, these applications leave zero residue and can stay on a plant for the rest of the plant's life. If you see any suspicious residue on a clone, ask the grower about their in-house integrated pest management (IPM) and always err on the side of caution.