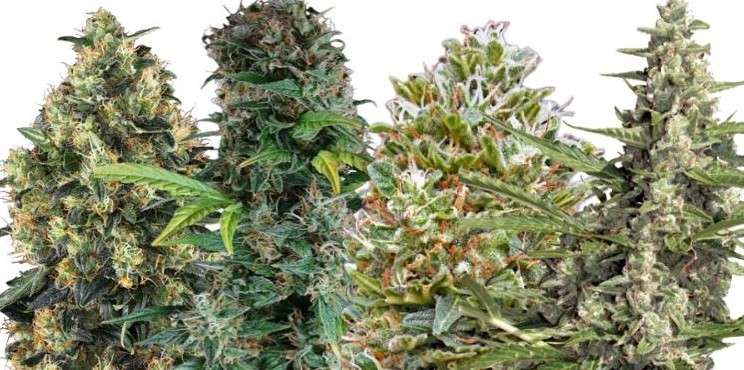 With 2021 just around the corner, it's time to start getting prepared for the influx of new strains the market produces. Before that happens, we figured we'd talk about some of the best Sativa strains currently available that you have to smoke in the new year. With some classics and some strains just developed in the past few years, we've provided a nice list of the best Sativas you'll find in your local dispensary. No matter what kind of smoker you are, you're sure to fall in love with some of these energizing strains.
Kosher Cookies
Overview: Kosher Cookies is the newest marijuana seed strain release from DNA Genetics. It was made by crossing two acclaimed American cannabis strains—Kosher Kush and Girls Scout Cookies. This mostly indica hybrid flowers in 8 to 9 weeks indoors, or by mid to late October outdoors. Growers can look forward to moderate yields of big beautiful buds covered in resin. Kosher Cookies smells of pine, pepper and citrus. Its heavy high is narcotic and relaxing.
Runtz Muffin
Overview: Runtz Muffin is the new potent and great tasting marijuana strain from Barney's Farm. These complex hybrid feminized seeds are the result of crossing Zkittles to Gelato, then crossing the offspring to Orange Punch, which increased the indica dominance to 70% while also improving yield. Runtz Muffin flowers in 8 to 9 weeks indoors, or ready to harvest during the first half of October outdoors. Its purple-hued buds are dripping in resin and tasty terpenes with pineapple, citrus and lavender scents. The effect is powerful, euphoric and calming. Very high THC content reaching 29%.
CBG-Force
Overview: CBG-Force is Dutch Passion's first ever CBG-rich feminized cannabis seed strain, believed to possess great medical potential. Testing at 12–15% CBG and under 0.15% THC, it can be cultivated legally in the same way as hemp. The medium-sized plants grow vigorously and quickly, taking only 7 weeks to finish flowering. The buds from CBG-Force are very frosty and dense, although not sticky at all and with little scent.
Sowah Sherbert
Overview: Sowah Sherbet is a new hybrid marijuana strain from Pheno Finder Seeds. It was made by crossing a selfed Sunset Sherbet to Karma Genetics' Sowah Diesel Bx2. The plants show the best traits of both parents, from growth vigor to bud quality. In about 10 weeks of flowering, these dank, dense buds are ready to harvest. Sowah Sherbet has a pungent, fuel-like aroma with hints of berry and citrus. Extreme resin yield makes it an excellent choice for extract production. THC content over 20%.
Lost Pearl
Overview: Lost Pearl is a new release of the old school weed strain Silver Pearl. By selecting the strongest "papaya" phenotype from the original seed stock and backcrossing it over generations, Green House Seed Co. has brought forth fast flowering plants with extraordinarily fruity qualities. Suitable for indoors, outdoors and commercial cultivation, Silver Pearl displays a typical indica, even growth pattern without much stretching. After 7 or 8 weeks of bloom, growers harvest moderate to high yields of sweet buds, which produce incredibly tasty resin. The effects are fast-acting, clear-headed and felt primarily in the body
.
Gelato #33 Fast
Overview: Gelato #33 Fast is a modern fast flowering strain by Advanced Seeds. Containing the infamous Sunset Sherbet and GSC Thin Mints genetics, this "fast" variety grows into a hearty plant with massive size potential and impressive resin production, while finishing quicker than the original Gelato #33. In just 45 to 55 days of flowering, growers can harvest heavy yields of sweet, resiny, citrus-flavored bud with complex earthy qualities. THC content measured at 24%. Cheap weed seeds.
Rainbow Road
Overview: Rainbow Road is an exciting new sativa-dominant variety bred from Strawberry Sativa and Hindu Kush genetics. It features maximum flavor, potency and one of the highest yields Paradise Seeds has ever encountered. The plants are vigorous in growth and may need training indoors to control its stretch. Unusually dense, solid buds develop in 65 days of flowering, absolutely covered in trichome crystals and oozing with resin. Outdoors, its sativa heritage provides resistance to gray mold. Loud fruity terpenes create a delicious potpourri of scents and flavors. Energetic, electric high. THC content is 18–22%.
2Y2
Overview: 2Y2 is a new feminized weed strain born from a cross between two prominent USA clones—Norcal Do-Si-Dos and Alpha Cut Purple Punch. The growth rate is similar in both parents, which lends itself to the even canopy layer that 2Y2 displays. Great for SoG and SCRoG methods, these indica-dominant plants grow fast, especially during veg. 2Y2 is ready to harvest indoors in 8 to 9 weeks of bloom, or outdoors during mid-autumn. Its high resin content, creamy terpenes and high THC levels make up a highly rewarding end product.
Strawberry Cheesecake Auto
Overview: Strawberry Cheesecake Auto is a tasty new autoflowering marijuana strain from Seedsman, one of the best seed banks. The strain comes from crossing Strawberry Banana Auto to Cheese Auto. Mostly indica, the plants grow into hearty, squat bushes that yield heavy harvests of resinous, dense buds. As much as 600 g/m2 per plant is possible. Growers recommend stripping the lower bud sites to make larger main colas. Due to its structure and bud density, Strawberry Cheesecake Auto is best suited to indoors and dry climate cultivation. The flavor is strongly Skunk, with sweet, fruity notes. Balanced effects. Average 15% THC.
Glueberry Auto
Overview: Glueberry Auto, just released by MSNL, is an autoflowering variety bred from the Gorilla Glue line along with Blueberry. It offers many benefits such as ease of growth, huge size and brutal strength. These bushy, tall plants finish at 8 to 10 weeks from seed—a bit longer than your typical auto seeds. However, yield and bud quality more than make up for the wait. Glueberry Auto's buds pack on tight, filled with frost and purple/orange highlights. The scent is fruity and "chemmy". 19–22% THC.
CBD 30:1 Auto
Overview: CBD 30:1 Auto is the latest cultivar from Medical Marijuana Genetics. It's a non-psychoactive autoflowering hybrid with very little THC and high CBD. The plants are matured in about 90 days from seed, growing under 4 ft tall indoors or a bit taller outdoors. Growers can expect some variation of scents and flavors between the phenotypes, which contain high levels of the terpenes myrcene, limonene and bisabolol.
Dosi Auto
Overview: Dosi Auto is the newest autoflowering marijuana seed strain from G13 Labs. It was bred by crossing Girl Scout Cookies to Faceoff OG with the addition of ruderalis genetics. Growing to a medium height, the plants are ready at only 60 days from seed to harvest. Despite the fast grow speed of Dosi Auto, growers can expect bountiful yields of quality cannabis sporting lovely pink and purple weed colors. The taste and smell resembles lime, pine, mint and citrus with subtle earthy notes. Strong effects and THC content up to 22%.
Lemon Pie Auto
Overview: Lemon Pie Auto is a flavorful new indica-dominant autoflowering strain from Fast Buds. Growers of all experience levels will appreciate its mold resistance, high yield and impressive flowers. Perfectly compact, the plants grow stout with a large central cola and many side branches. Lemon Pie Auto takes 8 or 9 weeks to finish blooming. A heavy coating of resin presents lemon zest, fuel and cream qualities. Balanced physical and cerebral effects. THC levels recorded at 24%.
Red Hot Cookies Auto
Overview: Red Hot Cookies Auto is a latest addition to the "red family" from Sweet Seeds. Approximately 60% of plants display vibrant red colors. It was bred from two American parents selected for their red flowers—Tropicanna and Tangie. Red Hot Cookies Auto is an easy strain to grow and adapts well to different climates, finishing at 8 weeks of bloom indoors or by the last day of summer outdoors. Both the smell and taste resemble fruit. 17–25% THC.
Royal Highness
Overview: Royal Highness is a recently refined version of Humboldt Seed Co's original creation—a 3-way hybrid of Cali Dream, Royal Kush and Trainwreck. These F6 regular seeds do well both indoors and outdoors, growing into slightly indica-dominant plants with a short 55-day indoor flowering time, or by late September to early October outdoors. The colas grow to enormous sizes and are immersed in shiny resin. Royal Highness has a kushy scent and skunky, fruity taste.